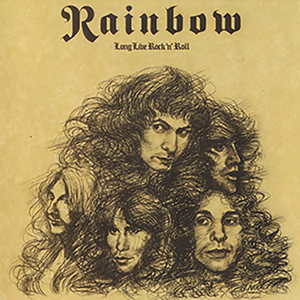 When I started to blog about rediscovering old albums, "Long Live Rock 'n' Roll" by Rainbow was one of the first albums that came to mind. It was about 10 years ago when I first listened to this album from beginning to end, and I was in disbelief that I somehow overlooked it all of these years.
"Long Live Rock 'n' Roll" was unfortunately the last album featuring the great late Ronnie James Dio on vocals. In my opinion, Ronnie James Dio was one of the best metal singers of all time. His performance on this album is absolutely legendary. He's brings so much energy to every song, and he does so with power, grace, and melodic flare.
You can't talk about about Rainbow without mentioning guitarist Ritchie Blackmore. He brought that unique progressive guitar style that helped define the sound for bands like Deep Purple. Ritchie Blackmore was truly ahead of his time, is grossly underrated, and has influenced so many other great guitarists. Fun fact: Ritchie played the bass on tracks 1-3, 6, 8. Bob Daisley played bass on Gates of Babylon, Kill the King, and Sensitive to Light.
The first track, "Long Live Rock 'n' Roll" is an instant classic metal tune. I feel like this song should have been a much bigger radio hit. It has such a catchy melody, and of course, it absolutely rocks. Perhaps it was more than most people could hand in the 1970s. L.A. Connection is, to me, the quintessential Ronnie James Dio song; a slower pulsing rock tune that really works well with his voice.
It's a tough call, but my favorite tune on this album has got to be "Gates of Babylon". I'm a sucker for tunes that sound like they'd be a great opener for a show. The keyboard intro sets the stage for the entire band to come in and rock your progressive socks off. In my opinion, the song is legendary and the epitome of great heavy metal music.
Here is a clip posted on YouTube by bassist Bob Daisley. This was apparently recorded in a studio in New York prior to the release of the album…
I need to own this on vinyl ASAP.